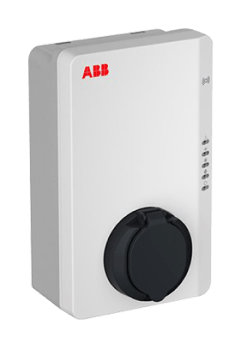 ABB
ABB Terra AC Wallbox
3.7kW / 7.4kW / 11kW / 22kW
It has integrated Bluetooth & Wi-Fi for smartphone or tablet connection for monitoring your vehicle's charge and for configuring the charger's characteristics through a special application.
It is wall-mounted and has integrated protection from over voltage, over current & low current, earth leakage and lightning protection, while it also offers integrated leakage protection from DC.
Car connection: Mode 3 Charging (max. 3.7kW)
Compatible with the communication protocol OCPP 1.6, for subsidy with "Kinoumai Ilektrika".
Technical characteristics >