Chargespot Business Public
Do you own a business? Become a member of the Chargespot network and make your business green by acquiring chargers for public use.

There's more! Special privileges apply depending on the type of your business.
Undertaking of the entire project with inspection and electrical supply/offer
Installation of chargers at competitive prices
Selection of chargers out of a wide range of qualitative and certified models (AC chargers of single/ double socket, AC 22kW, DC chargers of single/ double socket, Type2, Mode 3)
Placement, connection, commissioning and configuration of every charging station
Providing insurance contract of full coverage for every charging station throughout the duration of the agreement
Contact us to learn more about special previleges concerning the type of your business.
Guarantee of good operation and maintenance for the charging stations
Automated payments system 
Providing technical support for any damage
Providing web platform for the management of chargers (history and charging data)
Dynamic Load Management for the chargers installed
Support of end users and charging stations by the fully qualified Customer Care department of WATT+VOLT
Creation of my own charging network by gaining profit from the charges
Competitive electricity programs for the business and staff
Visibility of the company in the Chargespot application and increase of visits by the electric vehicles' owners
Access of my customer base to value added services
Practical help to the environment with a unique act of responsibility & increase of my green footprint

With Chargespot Business Public you gain even more for your business electricity by getting the zerO+ program.
In this way you can enjoy a program:
WITHOUT commitment
WITHOUT withdrawal clause
Full participation in government subsidies
Learn more about our electricity programs at watt-volt.gr.

Elinta CityCharge
Dual socket charger (2x22kW), wall or floor mounted with built-in DC leakage protection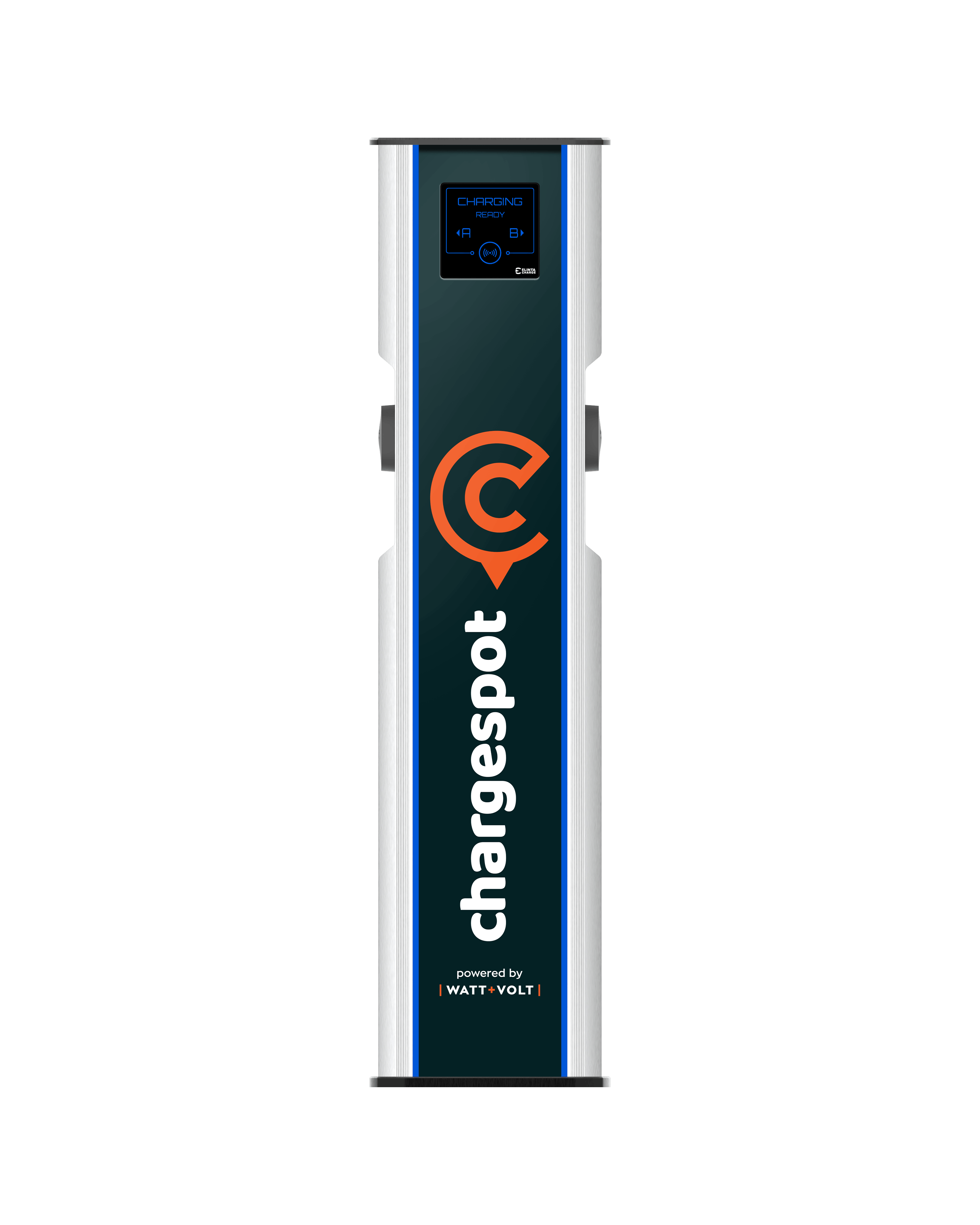 Impact resistance: ΙΚ10 (stainless steel & painted aluminium)
Ingress protection: IP54
All the required certifications
LED indicators: YES
Operating conditions: -30C to +50C
Rated voltage: 400 VAC, 50Hz
Rated current: Max. 3x32A (Mode3)
Rated Power: 22kW or 2x22kW
Electrical connection: L1, L2,L3,N,PE
MID Compatibility: YES
Overvoltage & overload protection
DC leak detector
Car connection: Mode 3 Charging (max. 2x22kW)
Communication with platform: 4G / Wi-Fi / Ethernet (Optional) 
Communication protocol: OCPP1.6 
Come to Chargespot
Elinta HomeBox Slim
Single socket charger (22kW), wall mounted with built-in DC leakage protection and digital energy meter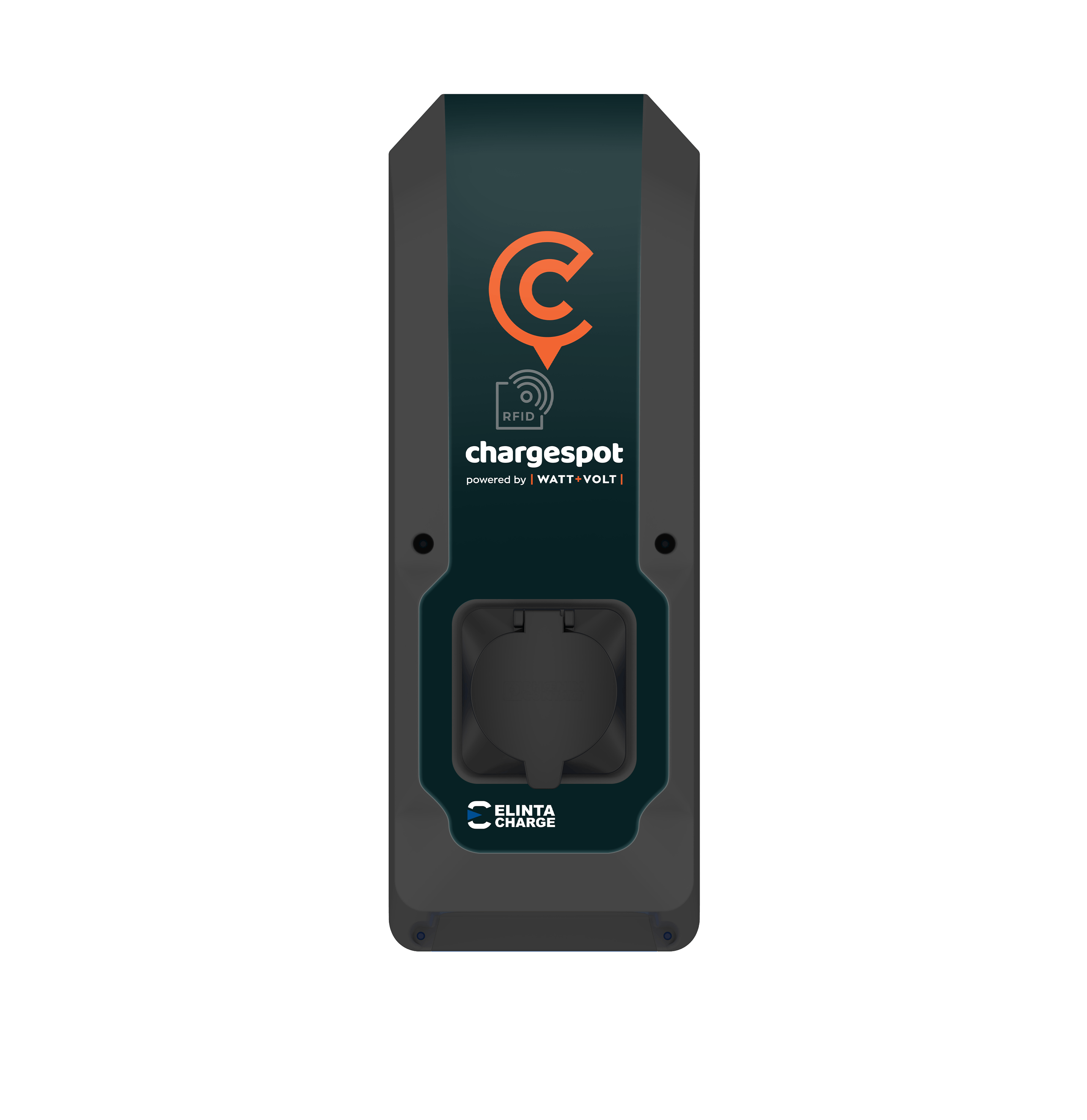 Impact resistance: ΙΚ08
Ingress protection: IP54
LED indicators: 2 different colors
Operating conditions: -30C to +50C
Rated voltage: 400 VAC, 50Hz
Rated current: Max. 3x32A (Mode3)
Rated Power: 22kW
Electrical connection: L1, L2,L3,N,PE
Compatibility: IEC61851-1:2017
Energy meter: Integrated MID meter
Overvoltage & overload protection
DC leak detector
Car connection: Mode 3 Charging (max. 2x22kW)
Communication with platform: 4G / Wi-Fi
Communication protocol: OCPP1.6
Come to Chargespot